Getting together with friends is fun, but going on a holiday with them is a whole other level. And we're not talking about a foodie trip to Japan or exploring the ruins in Cambodia – we mean the 'sun, sea, and a drink (or more) in my hand' kind. The island and beach getaways where you might just need another holiday to recover from. It's okay though, because all's good in the name of a great trip with your best friends!
But with great fun comes with great struggles. So if you're going on a holiday with friends this year, we're pretty sure you'd recognise these shenanigans:

1. Organisation Drama
You take centuries to decide on a location, and when that is finally sorted, there's another drama of searching for the right hotel/villa/airbnb that would suit everyone's needs. The good news is that everyone agrees it MUST be a sun holiday, so that helps.
2. The Infamous Holiday Whatsapp Group
…with a group name that might or might not be appropriate, as well as a display pic that definitely doesn't make sense at all.
3. That Mad Last Minute Rush
From Brazilian waxes, mani-pedis, to squeezing in last minute visits to the gym because a toned tummy is definitely achievable in a week's time – everyone is scrambling to get something done the last minute. But hey, we're only human (burdened with commitments in a face-paced urban environment); so who's to blame.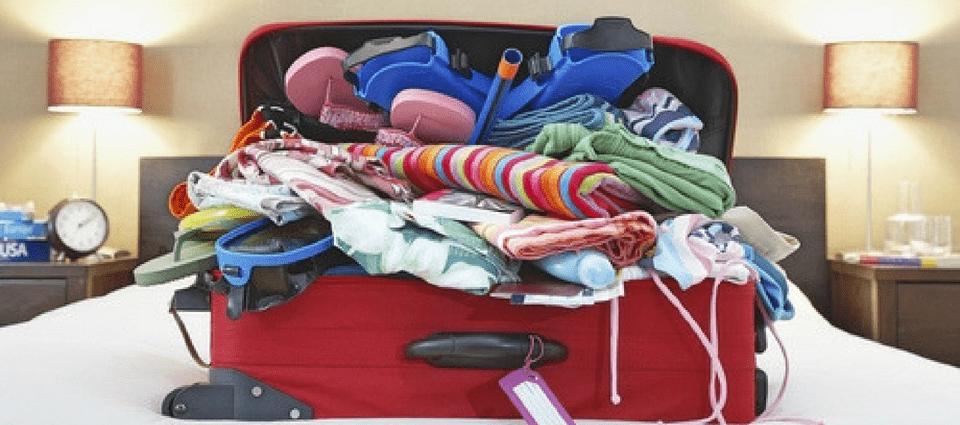 4. Someone is Going to Overpack
There is always someone who packs too much, appearing with two gigantic suitcases for a beach/island getaway. For the person who often finds themselves falling into this category, lighten your load and leave your bulky bottles of hair conditioner at home and decant your products into smaller containers (100ml and under!) OR hit up Sephora to pick up travel sized versions of your HG products by Urban Decay, Benefit and more!
5. Someone Else is Going to Forget something
There'll also always be someone who forgets everything. If this person is you, change your destiny by a drawing up a packing checklist and keeping your essentials close to you with a lightweight bag that you can use to stash all your belongings while on vacation. We're particularly fond of Eastpak's collection of funky backpacks that come with super useful zippered compartments to help you keep your stuff organised.
6. Tick Tock, Tick Tock
At least one of you has a countdown app, because how else would you know it's time for your highly anticipated summer holiday?
7. To Shirt Or Not To Shirt
There is a serious discussion about whether to print matching shirts with the destination and year stamped behind it, along with the (in)appropriate Whatsapp group name. Listen to us now: DO NOT do it.

8. Drinks All Day, Err Day
Alcohol at breakfast is a rule rather than the exception. Actually, alcohol at any other time of the day too.
9. Temperature Paranoia
Checking the temperature of the holiday destination non-stop, sending screenshots to each other in the Whatsapp group, and then panicking when there's something other than perfect sunny days stated. Yup. Amidst all the chaos, always remember to toss a cute bathing suit into your luggage for optimum beach slayage.
10. The Killjoy
And then there's the person who takes a little more coaxing to get on board with the ideas. (But you'd thank said person when she saves the group from stupid ideas.) This is also the person who is most likely to complain after having spent too much time on their feet so if you're going to be doing alot of exploring, stay comfy in a pair of shoes that can weather any terrain. From the volcanoes of Bali to the beaches of Thailand, Converse sneakers are definitely a must-have on all trips.

11. The Lobster
Don't be the lobster – bring lots of sunscreen lotion, for yourself and the person who turns red easily under the sun. With that being said, sunburn is the last thing you want to be worrying about especially if you're gonna be hitting the beach or exploring the mighty trails of a forest so be prepared with a good sunscreen. We love Supergoop!'s range of SPF products that includes everything from lip to body care.
12. The First Aid-er
In fact, just be this person and bring a bunch of medicine. They may laugh at you for being paranoid but having a small stash of band-aids, aspirin, vitamins and etc is a way more affordable alternative to having to visit the doctor's office in a foreign location. Especially if you're adventuring into areas that are a little of the beaten path. Stock up on supplements and stick em into your suitcase for when you need them. You'll be a hero (along with The Killjoy, perhaps) – trust us on this.
13. Souvenir Quest
Whether the typical bracelets or spontaneous tattoos, finding a good souvenir is always a dilemma. But it's so much fun too.
14. An Official Holiday Number
No, we don't mean the number 8 or that cute bartender's number – we're talking about some earworm summer number like Despacito or Party In The USA that keeps coming up throughout the trip. For moments when you need a little quiet time away from your group's 110th sing-along, noise cancelling headphones will be the unsung hero of your trip. They also come in handy during long-haul flights, bus journeys or when your roomie is snoring up a storm and there's a party brewing outside your dorm at 3am.
15. Too Long To Get Ready
Sometimes the time to get ready – whether applying makeup or getting gorgeous beach curls – lasts longer than the agenda itself. Why do we do this again? To counter this, keep your holiday wardrobe simply by packing easy separates than can be worn alone for hotter destinations and layered for when the temperature drops. Tees, tanks, playsuits, shorts and leggings occupy very little space, can be dried quickly and work across different seasons.
16. Eat, Drink, Club, Repeat
That indispensable part of your holiday, where what happens in the club, stays in the club. For holidays like these, the morning after will indeed be a challenge so have a pair of sunglasses ready to protect your peepers from the scorching sun and you recover from your hangover. Rayban's classic wayfarers are always the first thing we reach for.
17. Missing Link
It's supposed to be a group thing, but someone will always go missing when you head out. Chances are, you'll most likely find that person drunk dancing away in the club, flirting with a hot stranger or sobbing uncontrollably in the toilet. And this is why you're gonna want to make sure that you have your phone on hand in case you need to track down said person. Aside from Google maps to a camera, your smartphone is probably going to be the most used gadget on your trip so keep it alive with a dependable powerbank and adaptor that you can easily get online.

18. Spontaneous Friendships
Continuing from the point above, crying, screaming and people who throw up make for profound conversations with strangers. And who knows – that hot stranger your friend was flirting with might have a hot friend.
19. The Afterparties Are Legendary
Which is actually the reason point 16, 17 and this entire holiday exists.
20. Post Holiday Blues
Fortunately, you still have the photos to remind you of the epic trip (and The Lobster is still slowly recovering from the sunburn).