Saleduck.com.my provides coupon codes over the span of 365 days a year. We hunt down and provide new coupon codes along with deals everyday for our visitors. As always, we want to make shopping fun and easy, and one of the many ways to do so is by getting your favourite item on a discount. This little guide will help you shop better by being a savvy shopper with the only the best Malaysian coupon codes and offers. Here are some tips on how you can enjoy the perks with Saleduck Malaysia to its fullest.
The best coupon codes and offers are displayed on the main page
As part of our mission, we want to interest you with great coupon codes and offers as advertised on our main page. This way, you can shop for anything and everything and still be an avid yet savvy shopper. You will find coupon codes that we recommend on our main page.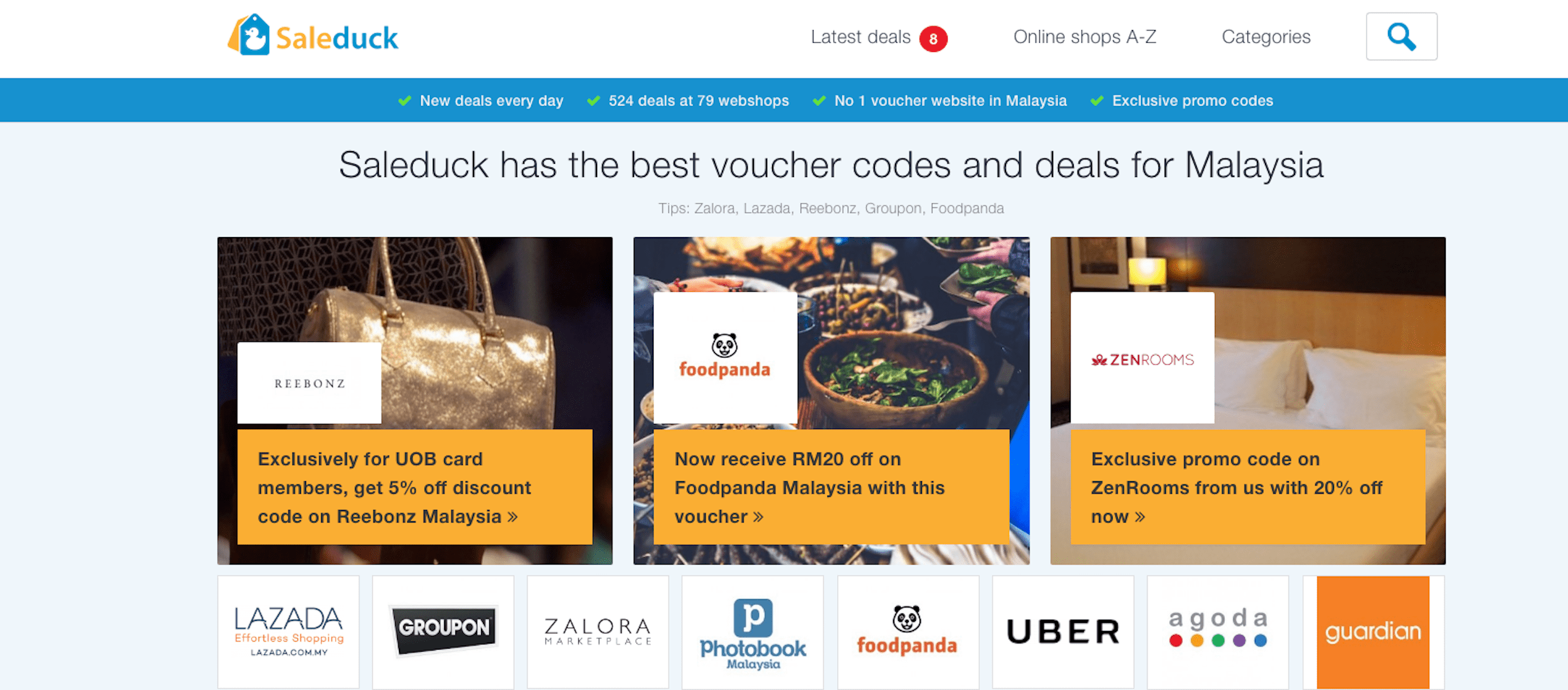 Malaysia's best coupon codes and deals
It's only fair for our visitors to get the best deals and offers from us, that's the reason we want advertise the best coupon codes. Now in Malaysia, you'll not have to wait for "Malaysia Mega Sale", "Hari Raya Sale" or any other festive sale to enjoy a decent discount or shopping spree. We'll offer you 365 days of great shopping spree with our coupon codes!
How does it work?
When you visit your favourite online store, pick the product you want to purchase. Once done, proceed to checkout, over at the checkout section you'll see an empty section to key in the coupon code with terms such; as " voucher", "promo code", "discount code" "coupon code" and etc. Below is an example for Zalora Malaysia (www.zalora.com.my).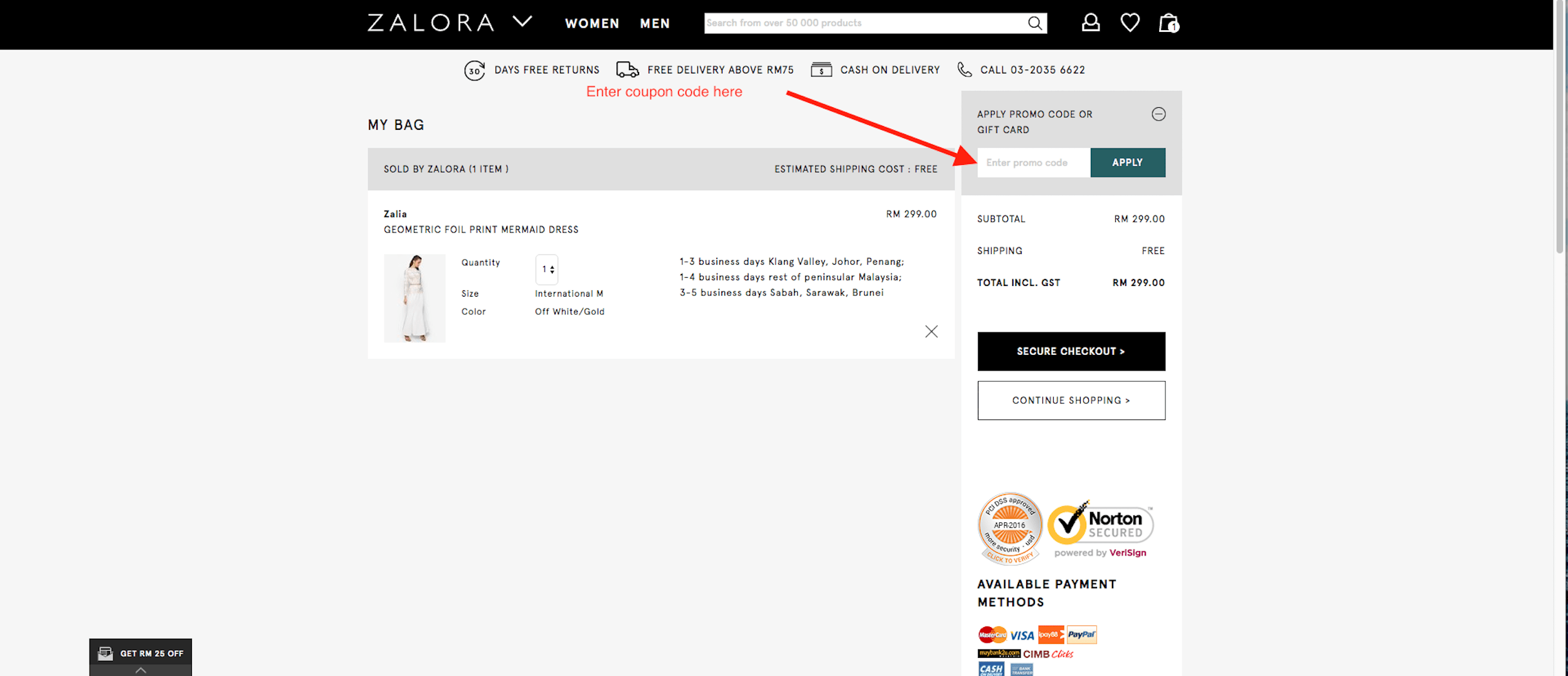 If you wish to find relevant discount codes and offer, get on saleduck.com.my. Look out for a specific online store, discount code or the product listed on our site. An example below: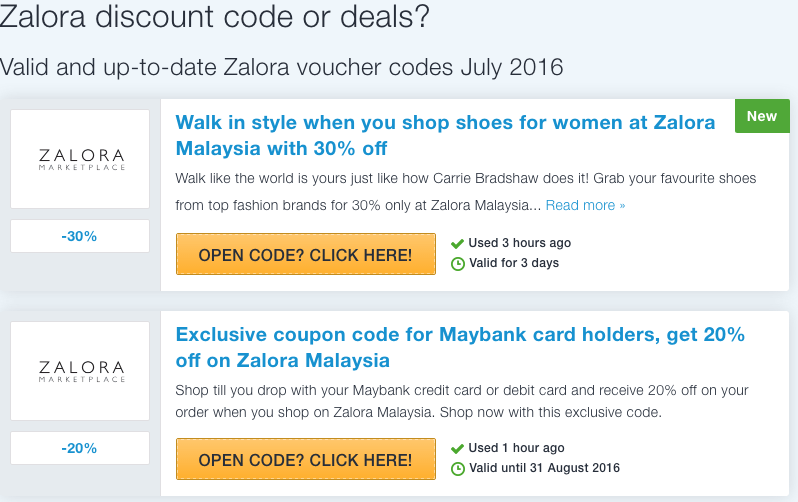 Once you've selected your store or your favourite deal, click on "open code", "click here" followed by ex: "use code on Zalora" pick your favourite item from the store and proceed to checkout. You've just purchased the item on a discounted price.
Why a platform for coupons?
Since South East Asia is a becoming more and more tech savvy with over a total market size of over USD$770 billion in worth-- it is safe to say people are becoming tech savvy plus they are shopping more online. A lot of us prefer to skip the queue at a shopping mall-- instead we much prefer to purchase something online and get it delivered to our doorstep. A platform with coupon codes and offers is only going to help new and existing online shoppers have a pleasant shopping experience. Saleduck Malaysia does just that, we get the best deals and discount codes and we share it with you!
Great platform for all users
Based on Google, more than eight out of ten Malaysians use their mobile phone or tablet. We developed our site in such a way in order for it to be mobile, pc and tablet friendly. Everyone and anyone who's interested in fashion, food, travel, etc can now shop using our platform.
Plenty of choices for categories to suite everyone
When you visit Saleduck.com.my you'll be spoilt for choice with the amount of categories we've listed just for you. It's our duty to provide and list relevant categories for you and our visitors so that you can find these categories easily to better your shopping experience with us! Some of the popular categories are "clothes fashion and accessories", "hotels and accommodation", "food and drinks" and a whole lot more.
Student discounts
All of us if not most of us know what it's like to be frugal as a student. Luckily, a lot of online stores offer ample amount of coupon codes exclusively for students.
Due to the fact there are a lot of student discount codes, we at Saleduck.com.my have created a designated category just for students. Yes, we do care about students too!
A lilttle takeaway
Now that it is clear, and with relevant tips from us, I hope you now know how awesome coupon codes from us can be. Besides being useful it is definitely a go to place if you're also on a tight budget.
Posting comments after three months has been disabled.