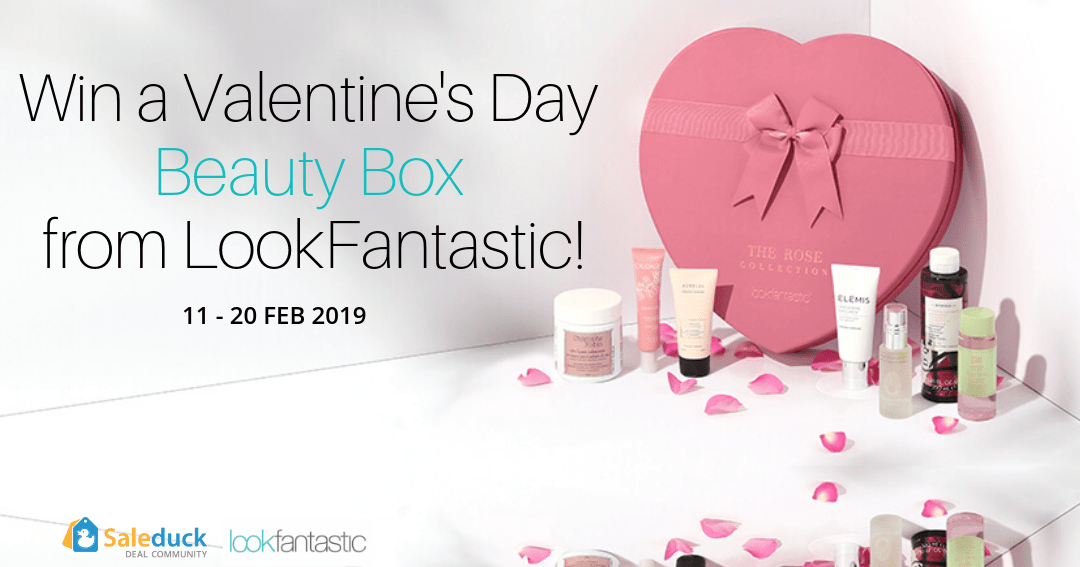 Thank you for your participation! Winners will be announced on this page on the 25th of February and will be contacted via email!
Terms and Conditions
Your participation in Saleduck.com.my's Giveaway (Referred to as "The Giveaway" herein) shall be deemed to be your complete acceptance of the Terms and Conditions herein. The following are the Terms and Conditions of The Giveaway, which is sponsored by the operator of the Internet site www.saleduck.com.my in partnership with LookFantastic.
Each entrant shall be entitled to make one (1) entry into The Giveaway only. In the event that Saleduck deems an entrant to have made multiple applications to enter or to have acted in bad faith, the entrant shall be excluded from The Giveaway and will no longer be eligible for the prizes as defined below.

Winning prizes included in this giveaway are :
One Limited Edition Beauty Box + 25% OFF coupon code (First Prize)

25% OFF coupon code (Second Prize)

20% OFF coupon code (Third Prize)
Prizes will be distributed to the winners after they successfully provide Saleduck with valid proof of identity.

Saleduck shall notify the winners via e-mail within thirty (30) days of The Giveaway. Upon notification, the winners must respond to Saleduck within sixty (60) days to coordinate their reception of the prizes or risk forfeiting their win. Saleduck shall not have any obligation whatsoever to compensate the winning entrant in any way.

Saleduck's decision is final with respect to all matters relating to The Giveaway and shall not be subject to review or appeal by any entrant or by any third party.

Your participation in The Giveaway is considered your agreement that Saleduck may contact you.

The Prize is neither transferable nor exchangeable and cannot be exchanged for money or money's worth.

By entering the Giveaway each entrant unreservedly agrees to these Terms and Conditions which govern The Giveaway and the awarding of the Prize.

By entering The Giveaway, each entrant agrees to release, discharge and hold harmless Saleduck, LookFantastic and their respective legal representatives, affiliates, subsidiaries, agencies, officers, directors, employees and agents from any damages whatsoever suffered or sustained in connection to The Giveaway or the acceptance of the prizes.

The winning entrant shall be solely responsible for any taxes levied in relation to the delivery or receipt of the Promotional Prize.

Images used are for illustration purposes only and a the actual prize may differ in presentation and content

Saleduck reserves the right to alter these Terms and Conditions at any time and at its sole discretion.

Saleduck reserves the right, at any time, to cancel, modify or suspend The Giveaway if, in its sole judgment, The Giveaway is not capable of being conducted as specified.

Saleduck reserves the right to disclose winners' names and identities.