McDonalds McDelivery coupon codes & voucher
Enjoy the iconic classic

McDonalds

Big Mac meal set from

RM17.30
Order

McDonalds

Oreo McFlurry for

RM7.30
Get

McDonalds

Spicy Chicken McDeluxe set from

RM18.30
Order Ayam Goreng McD set from

McDonalds

Online for

RM18.40
Buy

McDonalds

McNuggets for

RM7

only!
Buy Quarter Pounder set from

McDonalds

for

RM17.30
Order

McDonalds

Fillet O Fish set from

RM13.68
Order

McDonalds

Nasi Lemak Ayam Goreng for

RM15.09

only
Collect

McDonalds

Happy Meal Batman toys this month!
McD Crazy Hours - Enjoy mega deals up to

40% off
McFlurry Oreo Chocolate - Order online today for

RM5.90
McD Breakfast Set - Only

RM5.99
How to use McD promo code
Browse and select the category of the food you want to be redirected to a page with the food in the category. 

Select the item(food) that you would like to order. This will open up a pop-up window where you can sign in, sign up or continue to checkout without doing the former two. Do the necessary to proceed to the delivery page.

Fill in the form on the delivery page(or select your delivery address) and click "SAVE ADDRESS". On the next page, click "Start Order Now". Then you can proceed to the next page and start a new order or preorder. Depending on your choice, click the appropriate button.

Reselect your product of choice, select the quantity and click "Add to Shopping Cart". Repeat the step if you want to add other items to your cart and when you're done, click on the cart icon at the top right of your screen.

Enter your McD promo code in the text box above the order summary and click on the button "FACT" close to it. Your new bill will be shown to you after a successful code application.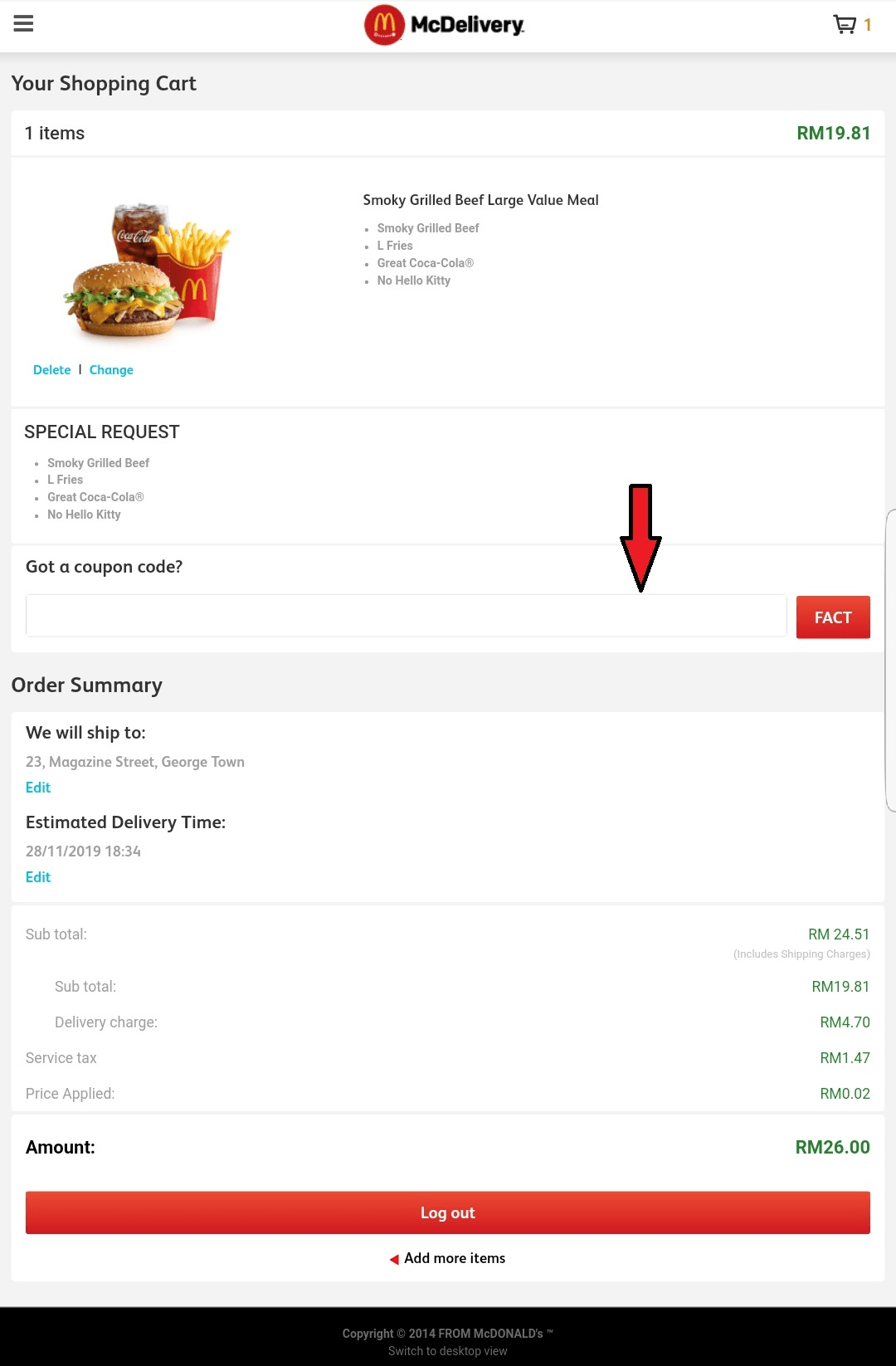 Click on the "LOGOUT" button to continue to the checkout page or click the button below it to continue shopping.

A page will appear showing your order summary, click "Continue Payment" to continue with the payment process.

On the next page that you will be redirected to, select your payment method, fill in its details, your contact information and click the "Confirm Order" button at the bottom of the page to complete your order process.

Be patient and wait for your order to be delivered.
McDonald's Malaysia
McDonald's currently does not have any discount cards, but does issue gift cards, vouchers and other promotional coupons in conjunction with any of the company's promotions. Save more with their bundle sale, you'd be able to share a meal consisting of variety of food like cheeseburgers to McChicken with the bundles sale. Browse through their menu on their website for more details. Most McDonald's restaurants in Malaysia are open 24 hours daily and offers free wifi along with dine-in, takeaway and delivery options. Some McDonald's branches even hold birthday parties for children upon request. McDonald's of course, is hugely popular all around the world, including countries like Singapore, the Philippines, Australia, the US, and Canada. Its reach is phenomenal and have over 36,000 branches in more than 100 countries.
McDelivery
McDonald's Malaysia offers speedy delivery service to its customers. Customers can order through the delivery website online, or through the McDonald's Delivery app. In order to place an order, the customer must register an account for themselves, which is free. There are four simple steps to follow to order McDonald's delivery. The first is to set the customer's address and determine if it is within the delivery range. Second, customers add their preferred McDonald's food items to cart and proceed to the third step which is checkout. The order is then processed will be delivered to the customer's doorstep. Payment can be made through credit or debit cards and cash upon delivery or even McDonald's gift certificates. The current minimum order is RM18, excluding a delivery fee of RM3. The delivery service is available 24 hours, 7 days a week at selected areas. Promotional coupons cannot be used for McDonald's delivery at present unless expressly stated. Alternatively, McDonald's order can be made at their partnering food delivery platforms.
Ramadhan Treats - Order McD Foldover set from RM17.99 only!
| | |
| --- | --- |
| Promotion: | From RM17.99 |
| Variety: | Chicken or Beef |
| Sauce: | Garlic or Special sauce |
| Availability: | Limited time only |
Get discount
Worth trying
Crazy Hours - Save up to 40% off on selected hours with McDonalds
| | |
| --- | --- |
| Discount: | Up to 40% off |
| Valid hours: | 3pm-6pm & 10pm-12am |
| Valid for: | Selected menu only |
Get discount
Worth trying
Save up to 24% off when you order online from McDonalds
| | |
| --- | --- |
| Discount: | Up to 24% off |
| Applicable to: | Selected menu only |
| Users: | All users |
| Valid Until: | 28th February 2022 |
Get discount
Worth trying
Buka puasa with this 50% McD promo code for your first 5 orders
Feeling fatigued after fasting all day? Why cook when you can order McDonald's from the comfort of your home? Not only that, enjoy 50% off your first 5 orders when you are a new user with this exclusive McDonalds coupon.
| | |
| --- | --- |
| Discount | 50% off |
| Minimum order | RM25 |
| Discount capped | RM30 |
| Users | New Users |
Show Promo Code
Worth trying
50% off your savoury meal with this McD promo code Malaysia
Eating McDonalds burger can never grow old. Get 50% off 5 orders from McDonalds with this McD promo code on KL's favourite delivery app
| | |
| --- | --- |
| | 50% off |
| | New users only |
| | Minimum spend: RM25 |
| | Discount capped at RM30 |
Show Promo Code
Worth trying
People also want to know
Are there any active McDonald's promo codes or discounts on McDonalds this May 2022?
Yes, there are currently 12
active deals online
. Click on the link to see the latest active McD promo codes or promotions.
What is the expiration date for McDonald's coupon codes?
What are the payment methods?
At McDonald's, you can use the following payment options: MasterCard, Visa, American Express, Maybank2U, CimbClicks or cash upon delivery.
Which McDonald's provides delivery?
Currently, 40% of all McDonald's outlets in Malaysia offers delivery services. You can check if your area is included on the McDonald's website. Alternatively, you can order McDonald's meals through their partnering food delivery platforms.
What is McDonald's operation hours?
McDonald's is open 24/7 throughout the year.
How to contact McDonald's customer service?
You can contact the customer service of McDonald's in the following ways: Phone Number: 1300 13 1300, Address: Golden Arches Restaurants Sdn Bhd, Level 6, Bangunan TH, Damansara Uptown 3 No 3, Jalan SS21/39, 47400 Petaling Jaya, Selangor, Malaysia.
Which McDonald's is closest to me?
There are currently 278 McDonald's outlets nationwide, and you can look for the nearest location to you on their website or simply search "McDonald's near me" on Google search.
Which McDonald's has all-day breakfast?
McDonald's Malaysia currently does not offer all-day breakfast menu. Breakfast is served from 5 am to 11 am daily.
When was McDonald's founded?
McDonald's was founded in April 1955, in San Bernardino, California. The first McDonald's outlet in Malaysia opened in April 1982, at Bukit Bintang.
Which McDonald's are halal?
All food and beverages served in McDonald's Malaysia are certified halal by JAKIM.
Will McDonald's have a meatless burger?
McDonald's currently does not offer a meatless burger, although they have released a McVeggie burger in the past.
What is McD breakfast time in Malaysia?
McD breakfast time in Malaysia starts from 5 am to 11 am daily.
What is McD delivery Malaysia contact?
McDelivery contact number is 1300-13-1300. Alternatively, you can order McD through McDonald's partnering food delivery platforms.

McDonald's
Who isn't a fan of McDonald's? With its variety of choices in its menu such as its breakfast, lunch, dinner and even dessert menu, there's no doubt McDonald's is still one of the nation's favourite fast-food chains.
Founded in 1955, Its golden arches are well-known throughout the world and it has established over 36,000 branches worldwide. Do you know that McDonald's serves over 69 millions hungry customers every day in over 100 countries? McDonald's is indeed one of the most popular fast-food chains in the world.
McDonald's Menu
McDonald's is famous for its McDonald's Value Meals and Happy Meals combos, usually a burger set that comes with fries and drinks. The fast-food brand also serves seasonal menus during special seasons like the Prosperity Burger Meal for a limited period of time during CNY. We Malaysians, are also blessed with special McDonald's menus that are only available in Malaysia like the Ayam Goreng McD and Nasi Lemak McD to satisfy your local flavour cravings.
Let's look at the world's favourite McDonald's menu item. The Big Mac, Filet-O-Fish, Egg McMuffin, Happy Meal, McDonald's Apple Pie, Oreo McFlurry and their most popular McDonald's French Fries! All these are served at an extremely affordable price. No wonder McDonald's is one of the nation's go-to lunch and dinner choice.
McD Breakfast Time
Other than being the go-to lunch and dinner choices, McDonald's also got your breakfast dilemma covered by serving their famous McBreakfast menu between 5 am to 11 am to help you kickstart your day. Ranging from the Egg McMuffin, Breakfast Wrap and many more, McDonald's breakfasts consist of popular breakfast ingredients like bacon, sausages, hashbrowns, eggs and more. Be sure to try their fluffy McDonald's Pancakes that are served with golden maple syrup along with a cup of their signature roasted coffee.
McDelivery
With McDelivery, you can order their juicy Big Mac and Chicken McNuggets at the comfort of your own home. They also provide lightning-speed delivery, so you can skip waiting in line and waiting time before you can enjoy your delicious McDonald's meal. Simply visit McDonald's online or their partnering food delivery partners to order your McDonald's meals now.
On top of that, you can visit McDonald's drive-thru to quickly pick up your favourite McDonald's combo and dessert if you are driving and feel your stomach growling. With their average waiting time of roughly 7 minutes, it is truly the definition of fast food!
McDonald's Coupon Code
Enjoy extra savings when you browse through Saleduck Malaysia for McD promo codes and coupons when you are ordering your favourite McDonald's Combo Meals. Or you can simply subscribe to our Saleduck newsletter to be updated on the latest McDonald's vouchers and promo codes. That way, you are guaranteed to save on every single one of your McDelivery's order!