Pop Meals Vouchers for Malaysia in November 2022
Use this discount code and get

RM8 off

your first order
Show Promo Code

ST8
Popular
1
Verified
Buy food using this

Pop Meals

promo code for extra

RM5 OFF
Show Promo Code

PN5
Verified
Save

RM5 OFF

on your first order using this coupon
Show Promo Code

ST5
Verified
Get Meal Packages as low as

RM370

per month
Earn

RM24

when your friend orders their first meal with your unique voucher!
Enjoy Malay food selection from prices starting at

RM13.99
Buy the best-selling Butter Chicken from as low as

RM13.99

only!
Have pizzagne as your next meal with prices starting at

RM15.99
Order your vegetarian meal now with prices starting from

RM9.99 only
Order

Pop Meals

Golden Butter Chicken online for

RM15.99
Pop Meals

- Join Pop Select to save up to

20% off

on every order
How to order on Pop Meals
Head over to the Pop Meals brand page. Find the food you want and click on it, which will bring you to the product for more details on it. 

Enter the quantity that you desire and click either "Buy Now" to start the checkout process or "Add to Cart" to continue shopping. You may be prompted to log in/signup at this point.

You will be shown the items in your cart and the cart summary.

On this page, select your preferred delivery option and confirm your delivery address.

After adding all your products to the cart, you can paste your coupon code in the "Enter Voucher Code" textbox on the right side of the screen under "Order Summary" (as shown in the picture below)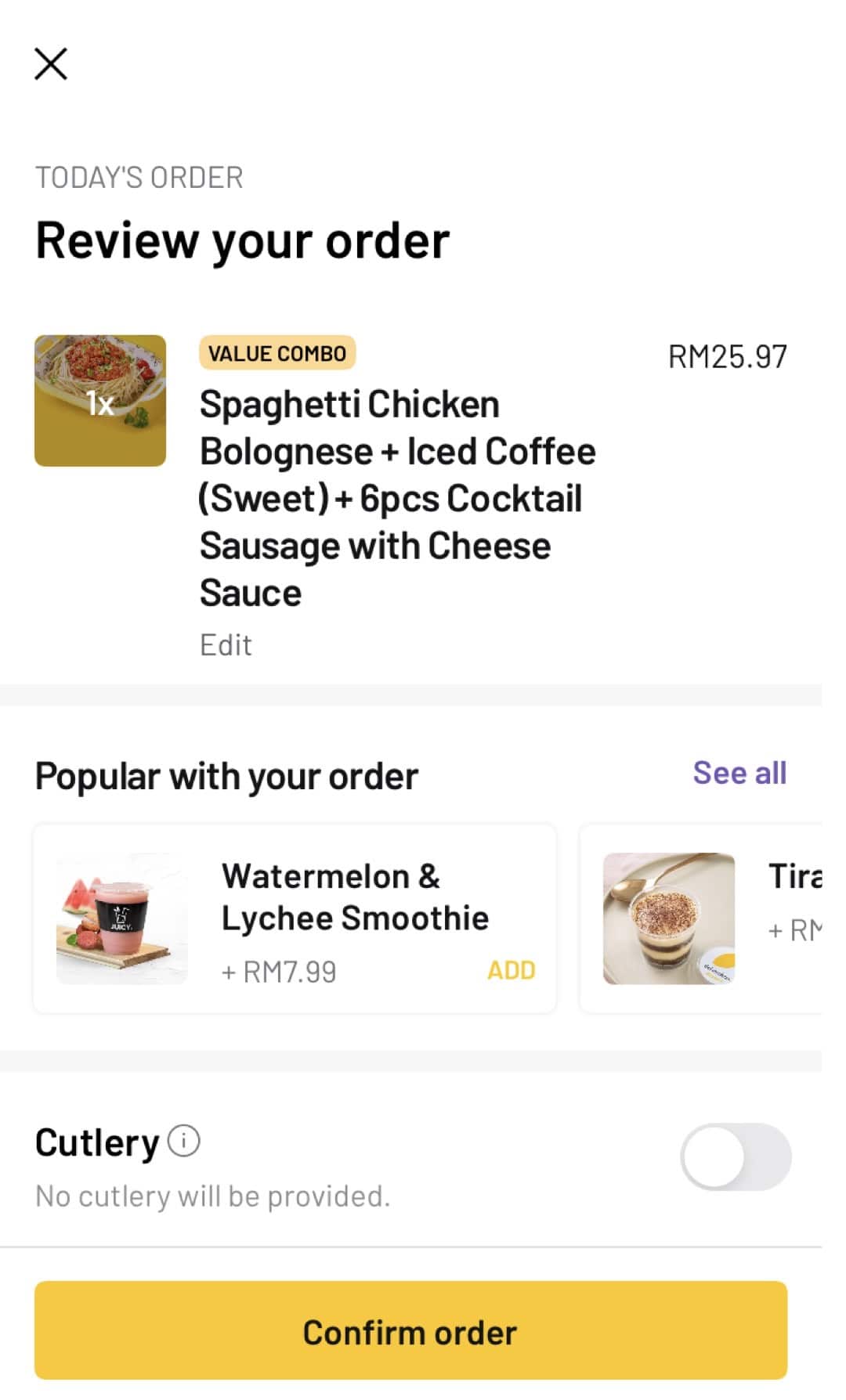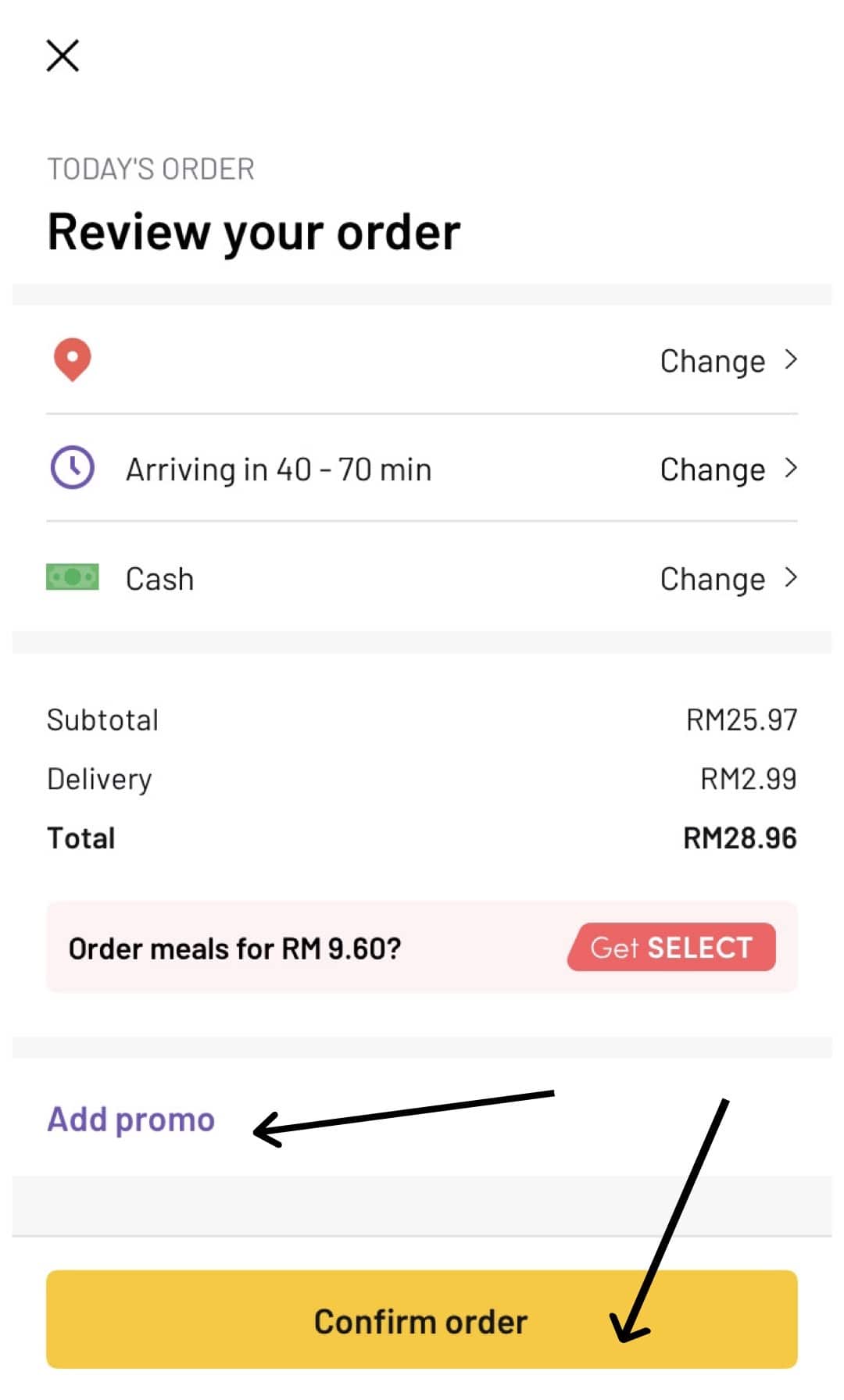 If the code used goes through, you will be able to see your new total.

Click "Confirm Order". On the next page, select your method of payment, give the details required and click "Pay Now" to complete the checkout process.

Wait for your item to be delivered.
Pop Meals Promo Codes
If you are new to Pop Meals Malaysia food delivery, you can get Pop Meals voucher codes and deals at Saleduck Malaysia. Simply visit our website and look for any Pop Meals promotion that catches your eye and all you have to do is order food online Malaysia of what you want and wait for it to be delivered to your address. Yes, it is that simple to eat delicious yet healthy food and you can keep maintaining a great lifestyle while saving more!
Get a FREE DRINK when you order any ala carte meal using this Pop Meals promo code
Order your favourite meal from Pop Meals today and enjoy a FREE drink, no minimum spend needed! Just order anything from the ala carte menu and paste this promo code upon ordering to redeem your free drink. Hurry, code is expiring soon!
| | |
| --- | --- |
| Promotion | Free Drink |
| Applicable to | Order of any ala carte meals only |
| Applicable to | Delivery only |
| Valid Until | 12th September 2021 |
Show Promo Code
Worth trying
Pop Meals Ramadhan Western Food Combo: Order it for RM72.99
Craving for western food for your iftar? Order this set of four and you'll be enjoying Carbonara pasta, Spaghetti Bolognese, Fried Chicken Chop with Mushroom Sauce and Super Creamy Mac & Cheese? It comes with two yummy sides of Mashed Potatoes and our famous Mushroom Soup! Quench your thirst up with their four cups of refreshing Iced Lemonade.
| | |
| --- | --- |
| Promotion | RM72.99 |
| Applicable to | Kombo Antarabangsa only |
| Applicable to | All users |
| Limitation | None |
Get discount
Worth trying
Pop Meals Ramadhan Cheese Combo: RM72.99
If you're a cheese fanatic? Then you should try out Pop Meals' Kombo Giler Cheese for iftar! This set is fit for 3-4 people and it comes with two kinds of Mac & Cheese, Beef Pepperoni Pizzagne and Baked Creamy Chicken Rice. This set also comes with 8 pieces of Chicken Nuggets and two Iced Pandan Lemonade and two Sirap Ros Lemonade! Hungry? Place your order now so you can have a cheesy, gooey, yummy iftar!
| | |
| --- | --- |
| Promotion | RM72.99 |
| Applicable to | Kombo Giler Cheese |
| Applicable to | All users |
| Limitation | None |
Get discount
Worth trying
Complete your iftar with this Pop Meals Set For Two for RM33.99
Step up your Pop Meals Ramadhan Combo with this set that comes with Nasi Kerabu Ayam Goreng, Nasi Kunyit Ayam Goreng, two Sirap Ros Lemonade, 4 pcs of dates and four Kuih Lapis Merah for dessert! Their aromatic rice, juicy fried chicken and spicy sambal is truly a powerful match, especially after a long day of fasting!
| | |
| --- | --- |
| Promotion | RM33.99 |
| Applicable to | Kombo Nikmat Ramadan Set Berbaloi |
| Applicable to | All users |
| Limitation | None |
Get discount
Worth trying
Pop Meals Ramadan Combo - Double meal set for RM25.99
Are you #TeamBiru or #TeamKuning? If you're sharing an iftar meal for two, why not give this super saver combo a try? This combo consists of two Pop Meal's best-selling Malay meals: Nasi Kerabu Ayam Goreng (fragrant blue rice, fried chicken and spicy sambal) and Nasi Kunyit Ayam Goreng (aromatic turmeric rice, fried chicken and sambal hitam). Which one is your pick? Order today!
| | |
| --- | --- |
| Promotion | RM25.99 |
| Applicable to | Kombo Nikmat Ramadan only |
| Applicable to | All users |
| Limitation | None |
Get discount
Worth trying
People also want to know
Are there any active Pop Meals promo codes or vouchers this November 2022?
Yes, there are currently 11
active deals online
. Click on the link to see the latest active Pop Meals promo codes or vouchers.
What is the expiration date for Pop Meals promo codes?
Most of the Pop Meals promo codes have an expiration date. Some might run for a couple days where as others run for a month. They often have a limited number vouchers available.
Check out the latest coupon codes here.
.
What are the payment methods?
At Pop Meals, you can use the following payment options: PayPal, Visa, Maybank2U, MasterCard, CimbClicks. They also offer Pop Wallet for your convenience. You can top-up your desired amount (RM30-RM500).
What is Pop Meals' operation hours?
Pop Meals' operating hours are Monday-Friday: 09:00-19.30.
How to contact Pop Meals' Customer Service?
You can contact Pop Meals' customer service in the following ways Telephone: 012 526 0774
Is Pop Meals halal?
Pop Meals sources their meats from Halal-certified suppliers, and cooks in a pork-free and alcohol-free kitchen. They are in the process of receiving Halal certification themselves.
How do I order Pop Meals?
You can order Pop Meals by logging on to their website or app, and choosing your meals and delivery time. Then, simply submit your order and await your food to arrive.
Is Pop Meals healthy?
Pop Meals is known for their healthier food options as compared with other food delivery services, and they offer special low-carb, healthy meals. They even offer vegetarian or vegan meals!
Shary
Envoy of Exclusive Deals
Pop Meals Malaysia
Formally known as Dahmakan, in November 2020, Dahmakan has rebranded its name to Pop Meals, emphasizing "Popular Meals even at even more Popular Prices". Moving away from their usual almost lime green logo, their layouts are changed to yellowish-orange colour, so don't be shocked when you googled "Pop Meals Dahmakan" and a bright yellow app comes out instead. Good news for Dahmakan lovers, Pop Meals still retains their iconic SELECT tab that contains a wide choice of meals with great and affordable price points. Pop Wallet is now available for those who want to order their meals quick and easy with a minimum top-up amount of RM30 and up to RM500 maximum.
Pop Meals which is a registered brand under Farm to Fork Sdn Bhd started its online food delivery Malaysia service business when a foodie with a great love for food and two brilliant technical guys had a brief discussion together on how pleasant and easy it would be to be able to eat delicious food every day, especially with hectic work schedule binding us. Together they made it all happen - Pop Meals which is a healthy gourmet, lunch and dinner food delivery Malaysia which focuses on a large delivery area, Klang Valley. Situated in the heart of a busy city full of office workers, gym-goers and the latest Instagram/blog foodies, it is really a great area targeted by Pop Meals Malaysia. Fret not, everything in the Pop Meals menu is made with the freshest ingredients and cooked daily in order to give only the best dish one can experience with a tingling great taste for your taste bud. All food from Pop Meals is crafted with love to give pleasure to your palate.
We are all inspired by that very popular TV show a few years back where we can see people write 'Jalan-Jalan Cari Makan' in Facebook status or Instagram caption when they go out to find interesting dishes to test - it's everywhere! On top of that, we always hear and ask normal but cliché questions like 'Nak makan apa?' (What are you having today?). So if you are getting bored with that type of question why don't you try ordering food delivery KL service from Pop Meals for lunch? Pop Meals Malaysia does provide food delivery service KL to offices and homes around this big city. Plus, you can pre-order up to two weeks in advance. How cool does that sound?
Pop Meals Halal
Pop Meals Malaysia, the top food delivery Kuala Lumpur changes its daily menu which is tailored by Executive Chef Samsul who has the experience working in 5-star hotels such as Sheraton and Hilton before taking over the kitchen at Pop Meals. Using only halal-certified ingredients and meats, it is their mission to give the best Pop Meals experience for customers with excellent services, a mouth-watering and scrumptious list of menus and not to forget great deals and promotions.
Pop Meals Menu
For some of us who might have a tight schedule at work, might find it hard to find the time to have a decent meal. Keep a balanced lifestyle and order with Pop Meals Malaysia and you can simply change your eating habits and maintain a healthy diet. Pop Meals has a wide selection of food in their menu that you can choose from. The food at Pop Meals also ranging from reasonably price, on par with the taste that will satisfy you. Among their crowd favourites include their Golden Butter Chicken and Spicy Mac & Cheese, so be sure to give those two a try!
Pop Meals Promo
Browse Saleduck.com.my if you're looking for more Pop Meals vouchers and other sizzling promotions. If you're finding yourself ordering from Pop Meals almost every day, then you should join their Meal Packages promo! With more than 900 healthy foodies out there, get one of Pop Meals meal packages to help you make eating healthy even more affordable and easier. Pre-order your favourite meals and get a special flat price for each of them with extra benefits such as:
There is no expiration date for the meals because you can order whenever you like.

It is hassle-free and you can pay online which saves time and energy! You can customise the time and date so you can get your meals delivered anytime you need.