Tesco Promotions December 2021
Tesco Malaysia - latest Tesco voucher & promo code
Tesco

bestsellers! Discover discount up to

60% off

your favorite household brands
Splash away when you purchase play pool from

Tesco

now with

58% off
Spray bad odors away with

15% off

Febreeze fabric refreshers at

Tesco

!
Smell good all day with

27% off

Downy fabric conditioners from

Tesco
Save up to

50%

when you shop for

Tesco

Brand items!
How to use promo code on Tesco (updated)
Open the brand page for Tesco, browse the product collection you want to order and click on the product you desire to see more details about it. 

Enter the quantity of your desired items and either click "Buy Now" to checkout or "Add to Cart" to place the item in your cart and continue shopping. Either way, you will be prompted to sign up/log in where you will need to confirm your delivery information.

When you want to proceed to checkout, click on "CHECK OUT" to continue.

You will be shown the items in your cart and the cart summary.

On this page, select your preferred delivery option and confirm your delivery address.

You can enter your Tesco voucher into the "Enter Voucher Code" text box under "Order Summary".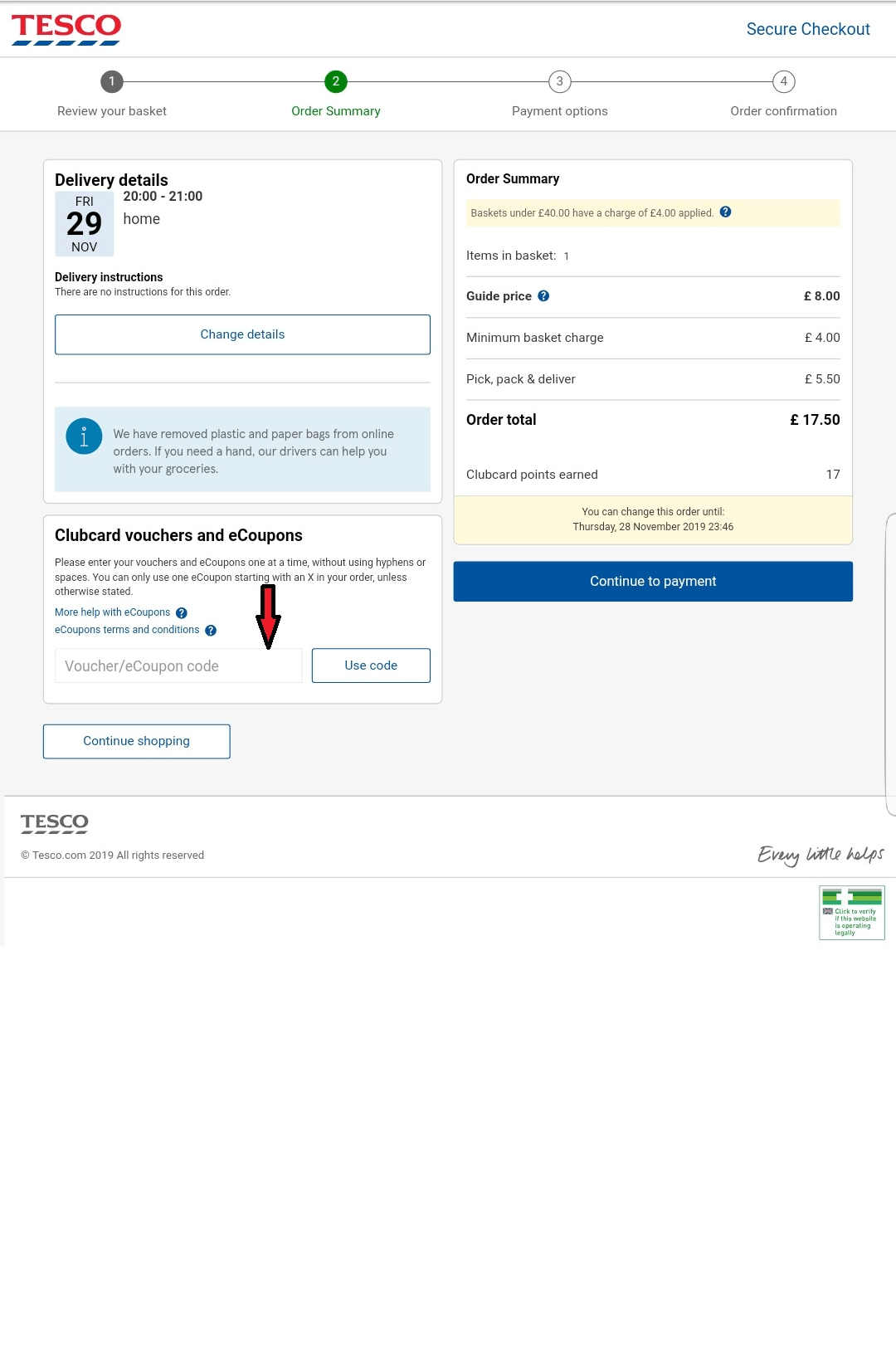 If the code used goes through, you will be able to see your new total.

Click "Place Order". On the next page, select your method of payment, give the details required and click "Confirm Order" to complete the checkout process.

You will receive a confirmation email about your order and your products will be delivered to you accordingly.
Best Tesco Promotions & Vouchers
| Top 5 Tesco Promo Codes | Discount | Valid till |
| --- | --- | --- |
| Tesco bestsellers! Discover discount up to 60% off your favorite household brands | 60% off | 01/02/2022 |
| Splash away when you purchase play pool from Tesco now with 58% off | 58% off | 01/02/2022 |
| Spray bad odors away with 15% off Febreeze fabric refreshers at Tesco! | 15% off | 01/02/2022 |
| Smell good all day with 27% off Downy fabric conditioners from Tesco | 27% off | 01/02/2022 |
| Save up to 50% when you shop for Tesco Brand items! | 50% | 01/02/2022 |
Tesco Clubcard
Apply for Tesco Clubcard Malaysia membership as you can do more savings together with a bundle of richer awards. You can earn Clubcard points every time you shop and the collected points can be changed to cash vouchers for you to spend on your desired products.
Tesco eCoupon
Tesco Malaysia's way of giving you further discounts is with their eCoupons. For the latest Tesco eCoupons 2021, check out our Tesco webshop regularly as we will be continuously updating it with the latest Tesco promotions and promo codes.
Tesco Promotions
Download the latest Tesco catalogue for the best discounted products and apply one of our Tesco vouchers today!
Enjoy RM2 off each item when you shop this 11.11 on Tesco Malaysia!
Got some groceries to get for this week? Save on each item you buy with Tesco MY when you shop this Singles' day!
| | |
| --- | --- |
| Discount | RM2 |
| Min. Spend | None |
| Applicable | on 11.11 promotional items |
| Users | All Users |
Close
Get discount
Worth trying
Get Tesco voucher and enjoy RM5 OFF
Go on an online grocery spree and enjoy an additional discount when you redeem this voucher from Tesco! What are you waiting for? Start shopping now!
| | |
| --- | --- |
| Discount | RM5 off |
| Min. Spend | RM80 |
| Applicable to | All users |
| Valid Until | 31st October 2021 |
Close
Get discount
Worth trying
Enjoy 15% off when you shop with this Tesco voucher today!
Save the hassle of grocery shopping and just do it all online! Shop online from Tesco and don't forget to claim your voucher to save extra upon your purchase.
| | |
| --- | --- |
| Discount | 15% off |
| Discount Cap | RM8 |
| Applicable to | All users |
| Valid Until | 31st August 2021 |
Close
Get discount
Worth trying
Early 3.3 Offer: Enjoy 10% OFF when you shop for groceries this 3.3!
Skip the grocery run and just shop online! Say goodbye to long queues and the dread of searching for your items on your groceries list and just browse through their official store on Shopee! All you need to do is claim your voucher now and use it during their early 3.3 sale!
| | |
| --- | --- |
| Discount | 10% off |
| Discount Cap | RM5 |
| Min. Spend | RM1 |
| Valid On | 18 February 2021 |
Close
Get discount
Worth trying
Shop for groceries this Chinese New Year and redeem your RM30 Tesco voucher
Shop for food, drinks, cooking ware, body care products, electronics and many more from Tesco and enjoy a massive discount this Chinese New Year! All you need to do is redeem this voucher, meet the minimum spend and claim it upon checkout! Hurry, shop now to avoid the CNY grocery shopping rush.
| | |
| --- | --- |
| Discount | RM30 off |
| Min. Spend | RM250 |
| Applicable to | All users |
| Valid Until | 15 February 2021 |
Close
Get discount
Worth trying
People also want to know
How to get Tesco vouchers?
Select the
ecoupon
that applies to you from our promotions overview. Click the yellow button and allow the pop-up to generate an eCoupon for you.
Are there any active promo codes or discounts on Tesco this December 2021?
Yes, there are currently 5
active deals online
. Click on the link to see the latest Tesco promotions & promo codes.
What is the expiration date for Tesco voucher codes?
Most of the Tesco promo codes have an expiration date. Some might run for a couple of days whereas others run for a month. They often have a limited number of vouchers available.
Check out the latest Tesco vouchers here.
.
What are the payment methods?
At Tesco you can use the following payment options: Visa, MasterCard
How to contact Tesco customer service?
You can contact the customer service of Tesco in the following ways. Contact number: 1300 13 1313, Email: tescohelpline@tesco.com.my, Address: Tesco Stores (Malaysia) Sdn Bhd Head Office, Level 3, No.3, Jalan 7A/62A, Bandar Menjalara, 52200 Kuala Lumpur, Malaysia.
Can Tesco deliver to my address?
Tesco's delivery service currently covers Klang Valley, Johor Bahru, and Penang areas only. You can check whether your area is included on their website.
Can Tesco Clubcard points be transferred?
Tesco Clubcard points cannot be transferred, except in special circumstances such as a death of a family member. In those cases, you will have to submit a request in writing to Tesco.
Can Tesco vouchers be used for fuel?
Tesco vouchers cannot be used for fuel at the moment, and can only be used in Tesco or their partners.
How does Tesco Clubcard work?
Tesco Clubcard allows you to collect points every time you shop at Tesco, which you can then convert into cash vouchers, as well as receive vouchers from their partners.
How does Tesco Click and Collect work?
Unfortunately, Tesco's Click and Collect service is not available in Malaysia at the moment.
How does Tesco Pay work?
The Tesco Pay+ app and payment services are currently unavailable in Malaysia.
What is Tesco Clubcard points worth?
With Tesco Clubcard, you can earn 1 point per every RM1 spent when shopping in Tesco. You will need to collect a minimum of 400 points before you can redeem them for vouchers.
When are Tesco Clubcard vouchers due?
Tesco Clubcard vouchers will expire 1 year after they are issued. Please make sure to use them before then.
Tesco Malaysia
Tesco Malaysia has been the ultimate choice of shoppers from all sorts of background to get almost everything they need. For years it has managed to triumph the market with its wide range of products available on their store and set its name in the front tier as a pioneer in the industry. What makes them the number one choice among Malaysian shoppers? The answer may lie in their vision of making what matters better. Every day they will go extra mile in order to help their customers to get better quality products with great values and choices.
As a big player in the industry, Tesco Malaysia always comes with the best ideas for expanding its brand name and today it has four in-house brands being offered to the customers.
Tesco Products
About 15 years ago, your favourite store set out to do something no one had thought before - bringing a selection of high quality products with the greatest qualities offered in terms of flavour and authenticity from around the globe. Today their Tesco finest* range has already grown with over 100 products which will be perfect for those who seek excellent quality in taste, aroma and dining experience.
Switch over to Tesco products with prices that are at least 20% lower but come with the best quality standard of other market leading brands. Their products are proven to be matched with those brands as Tesco products are made by their internal expert team and tested by customer panels.
Tesco Online
When it comes to grocery shopping, it sure is fun and an enjoyable routine to roam around the supermarket and scout for what's on sale. But the traffic to the store and the queueing upon checkout is no fun. Tesco online eliminates those stressful and unenjoyable process for you. Simply visit Tesco Online and you can now enjoy grocery shopping and necessities replenishment off the top of your fingers on your phone or desktop. Don't worry about missing out on the in-store promotions because Tesco Online offers the same discounts if not, better discounts to help you with a massive saving!
Tesco Promotions Today
Tesco Malaysia offers a variety of promotions every day from groceries to household products. It is one of the nation's favourite store to shop for their daily necessities because of the competitively low price they offer. Simply visit Tesco supermarket or their website to find out what is on Tesco promotion today!
Tesco Voucher & Promo Code
Couldn't keep up with the ever-changing Tesco promotions? Simply subscribe to Saleduck newsletter and push notifications to be updated to the latest Tesco discount. We are here to provide you with the best Tesco vouchers and promo codes to help you save, save, save on your shopping spree!