Traveloka coupon Malaysia - June 2023
Up to

70% off

when you subscribe to

Traveloka

Malaysia's newsletter
Visit

Traveloka

's promotions page to save up to

60% off

on hotels
Extra discounts of up to

RM200 off

when you travel with

Traveloka
HOW TO USE PROMO CODES IN TRAVELOKA
Go to the website of Traveloka, select the service you want(eg flight, hotels, train, etc) and search for it. For this guide, I am going to select a flight.

Tap on the flight you want in the search results or click on the small arrow pointing down at the right edge of the page to expand the section and click the orange "Select" button at the bottom right of the page.

On the next page, enter your contact and passenger details and click "Continue". 

Select the add-on you would like(optional) by ticking the boxes at the right edge of the box in line with them and click "Continue" button at the bottom of the page.

This will open up a pop-up window informing you that you won't be able to change your booking details once you proceed to the booking page. Click "Check again" to go back and recheck your details or click "Continue" to proceed to the payment page.

Tap on your preferred payment method on the payment page.

This will load up a new page where you can fill in the payment required details.

If you have a promo code, on the same page, click on the section named "Coupon" to expand it. Enter your code in the text box that you will be provided in a pop-up window and click "Apply" and your new bill will be shown to you after a successful code application.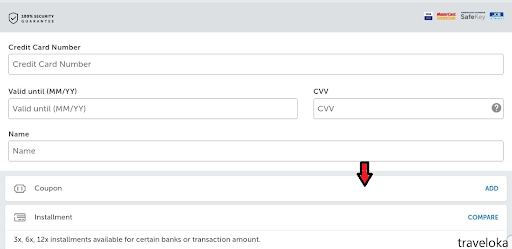 After completing the above step, click on the brown button(its name will depend on the payment method you chose earlier) at the bottom of the page.

Complete the payment and you will be sent your ticket via email as soon as possible.
Maybank Traveloka Promo
Exclusively for Maybank cardmembers - Pay using your credit or debit card to enjoy extra 15% on the Traveloka website and mobile app
Promotions
Getting flight tickets online and hotel stay promotions have been made easier with Traveloka Malaysia. You can always check for the cheapest flight tickets online on the go using Traveloka App despite of your hectic schedule at work. Beat the time by booking your hotel at Traveloka to save plenty of time.
Newsletter
Join Traveloka and sign up with Traveloka newsletter today to receive the best flight and hotel deals online. Book with Traveloka and you can enjoy discount for flight fares up to 70%!
You just missed these Traveloka promo codes:
| | | |
| --- | --- | --- |
| 40% off | MAS Mid-Year Sale: Flights up to 40% off when you book via Traveloka | 04-06-2023 |
| RM15 off | Traveloka Promo Code: Get up to RM15 off while exploring Australia | 31-03-2023 |
| RM10 | Traveloka Discount Code: Enjoy RM10 cashback on your stay in Australia | 31-03-2023 |
| RM200 off | Traveloka Promo Code: Enjoy up to RM200 off for your international flight | 31-03-2023 |
| RM10 off | Explore Malaysia with RM10 off using this Traveloka promo code | 03-04-2023 |
People also want to know
Are there any active promo codes or discounts on Traveloka this June 2023?
Yes, there are currently 3
active deals online
. Click on the link to see the latest active code or promotion.
What is the expire date for Traveloka coupon codes?
Most of the Traveloka promo codes have an expiration date. Some might run for a couple days where as others run for a month. They often have a limited number vouchers available.
Check out the latest coupon codes here.
.
What are the payment methods?
At Traveloka you can use the following payment options: Visa, MasterCard, American Express, Maybank2U, CimbClicks, RHB Bank, Hong Leong Bank, Alliance Bank, AmBank
Can Traveloka be trusted?
Yes, Traveloka is a trusted website to purchase travel deals, activities, and accommodations throughout Southeast Asia.
How do I to use Traveloka points?
Traveloka's point system has unfortunately not been introduced in Malaysia yet.
How to contact Traveloka?
You can contact the customer service of Traveloka in the following ways Telephone: +603 7724 3501
Can I pay for Traveloka via 7-Eleven?
Yes, you can pay for your Traveloka bookings through 7-Eleven. Simply select 7-Eleven as your payment method upon checkout, and visit your nearest 7-Eleven outlet to complete payment.
What are Traveloka's Smart Combos?
Traveloka's Smart Combos are a cheaper way to travel, saving you up to 40% on premium flight tickets on high-end airlines.

Yogeethaa
Codecaptor Sakura
Traveloka Malaysia
Traveloka is a pioneer in the market since 2012 for its leading on-the-go lifestyle booking website. Based in Indonesia, the online ticket booking platform started when a bunch of Indonesian technology information practitioners founded the online travel company. The hardworking people behind the Traveloka team had years of experience working at tech companies in America. If you are new to this travel website you would be amazed to find out that Traveloka is the very first national company in Asia to receive the lavish Series A funding from two giants which are Global Founders Capital and East Ventures.
The best thing about booking tickets online for cheap flights at Traveloka is you can access the website through different platforms such as desktop, mobile web and Traveloka mobile app using your smartphone. Traveloka can be accessed 24/7 and from anywhere. Isn't that sound cool? Checking for cheap flight tickets online and hotel stay have been made easier by Traveloka. As a matter of fact, one of its brilliant moves to make its website as the ultimate choice among travellers is to establish partnerships with other big companies. This exercise helps Traveloka to establish partnerships with more than 50 international and domestic airlines.
Traveloka covers more than 100,000 of different routes to and from the Asia Pacific and Europe as well. On top of that, you can find its list of more than 100,000 hotels around the globe on Traveloka website. Traveloka enables a dynamic mobile lifestyle with its incredibly secured payment procedure equipped with various payment methods to choose from. Need any help? Contact its 24-hour call centre and the Traveloka team will definitely help you with your enquiries.
Traveloka Hotel
With Traveloka you can also search and book cheap hotels online. Traveloka Malaysia provides the best hotel promotion in town where you can enjoy up to 70%. Traveloka has partnered with big names such as Berjaya Hotel, Tune Hotels, Ibis and many more around the world to make your stay a lot more interesting and worth every penny.
Traveloka Flight
If you are an avid traveler, you can make a full use of Traveloka to get the cheapest airline tickets online. With a great list of partners from major airlines across the world, you can do your flight search anytime and anywhere and get the best ticket with the right price and save more!
Traveloka Coupon
Visit Saleduck for more Traveloka coupons that will help you save a ton when you make your travel bookings on Traveloka. Simply plan your trip in advance, scout for the best flight and accommodation deals at Traveloka then apply our Saleduck exclusive Traveloka coupon upon your checkout and you're on the way to a massive saving! To be updated on the hottest and latest travel deals there are in town, subscribe to Traveloka newsletter and be spoilt with multiple exclusive travel discounts today!
Traveloka Petrosains
Petrosains is an interactive science center located in Kuala Lumpur, Malaysia. It was established by Petroliam Nasional Berhad (PETRONAS), the national oil company of Malaysia, with the goal of promoting science education and awareness among the public. Petrosains offers a wide range of hands-on and interactive exhibits, activities, and programs that aim to make science accessible and engaging for visitors of all ages.
Petrosains covers a range of scientific disciplines, including biology, chemistry, physics, and technology. Visitors can explore various exhibits, such as a replica of an offshore oil rig, a simulated oil refining process, and interactive displays that explore various scientific concepts and phenomena. Petrosains also offers educational programs and workshops for schools, as well as special events and activities throughout the year.
The science center is a popular destination for families, school groups, and science enthusiasts, and is designed to provide a fun and engaging learning experience for all visitors.